Some exciting choices from N & P Windows to help transform your home.
Trusting N & P Windows to use RFM Windows products to transform your home means that you will be making some exciting choices. You can choose from an almost limitless range of colours, profiles, textures and styles for the look you want.
N & P Windows choose RFM Windows windows because they areas crafted to your exact specification and measurements. To match your expectations we ensure that you are involved in as many of the design decisions as you want to be. After all, this is the exciting bit.. With our range of RFM Windows windows you can really get creative.
To start we talk with you about your lifestyle, tastes and glazing requirements. Then we design the windows you need: casements, sliding sashes, period style or one-off specials. The choice is yours. We have over 40 years of experience and our experts will guide you and involve you at every stage and once you're happy with the designs you choose, we make your windows.
The durable, cleverly insulated RFM Windows windows keep your home warm and cosy. Once we have fitted your new PVCu windows you'll notice immediately that it's quieter and reassuringly secure. Your replacement windows will help you save money too through energy savings and they will give you peace of mind through long winter nights and help shape the living space you've always wanted.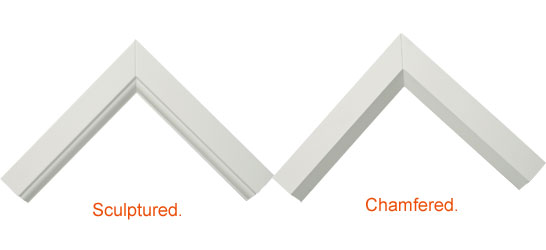 Replacement windows in all shapes and sizes.
We have installed over 40,000 windows since we started in 1969 so it will not surprise you to know that we can make and install your replacement windows to fit to virtually any specified dimensions. Each RFM Windows window range is an architectural classic, offering a huge range of designs, frame colours, glazing options, handles and window board finishes. The choice is yours – but the quality is always the highest. That's N & P Windows' promise.

RFM Windows PVCu windows include slimmer frames which are sleek, unobtrusive in appearance and maximise the area of glass in your windows. That means more natural light in your home and a clearer view of the outdoors.
Available with two individual styles of beading.
Sculptured.
The sculptured option from gives a more curvaceous, traditional decorative finish to your window.
Chamfered.
The chamfered option creates a symmetrical, contemporary, straight-edged style and might be considered a more modern look.
Frame profiles.
Choose between the classically elegant Sculptured frame finish or the clean lines of Chamfered. As always with N & P Windows it's about choice. You can have fully Sculptured or fully Chamfered, frames and beads, or mix the two – chamfered frames with sculptured beads.
Call N & P Windows now on 01462 422884 to see our extensive range of double glazed windows.